Kick-start your Career - Perth's only Nationally Recognised Cattery and Kennel Based Course
Have you ever dreamed of working with animals? Are you looking for an introduction to the animal care industry?  Are you a volunteer and want to be able to offer more help and assistance to an animal rescue, animal adoption, cattery or kennel facility?  Yes? ACM20117 Certificate II in Animal Studies (Animal Care and Welfare) is a great place to get started!
This intensive 14-week course includes weekly training at the Cat Haven in Shenton Park and at the Greyhounds as Pets (GAP) kennel facility in Southern River. It is one of the quickest ways to gain a nationally recognised animal studies qualification and obtain valuable experience in a local animal shelter and kennel facilities.
Course Snapshot
Duration:  14 weeks
Practical Training: 1 day per week at the Cat Haven/GAPWA
Class Time: Half day per week in Bentley
Online Study Time: Approx. 25 hours per week
Prerequisite: none required
Best suited to: Students who wish to start a career in the animal care industry or those who wish to go on to further studies such as Vet Nursing.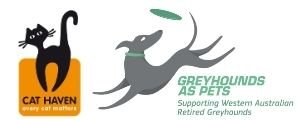 Your course structure will be as follows:-
A full day induction at AVT's Campus in Bentley at the start of the course,
one day per week at the Cat Haven located in Shenton Park, WA or at Greyhounds as Pets located in Southern River, WA. You will be required to spend time at each of the facilities during the course plus,
one half-day per week at AVT's Campus in Bentley to receive intensive small group practical training, and
you will also require approximately 25 hours per week of home-based online eLearning to complete theory and submit assessments.
We will endeavour to meet your preference for practical training / on-site training days but this can not be guaranteed and students are expected to participate in ALL practical training days.
Students must:
be available to participate in ALL training days (1.5 days per week)
be physically capable of restraining animals, handling animal feed e.g. large bags of food of up to 10 kg and standing for extended periods of time
have a reliable internet connection and access to a desktop computer or laptop. You will be required to write, submit and in some cases upload assessments and various types of multi-media files online in your own time, therefore we strongly recommend using a desktop or laptop computer for your studies
be proficient in speaking and writing in English
must be at least 18 years of age
due to the required workload and level of study, have a minimum level of schooling up to and including year 10, with a good understanding of science and maths.
This course is highly competitive and has limited places. Therefore, successful students are selected based on prior work experience, education, individual attitude and aptitude. Shortlisted applicants will be interviewed by an AVT team member.
Credit transfers
Students with eligible credit transfers may apply, however due to the course delivery format, 100% attendance is required for orientation/induction and practical placement days and therefore full course fees will apply.
You will gain knowledge and skills across a broad range of animal care areas. In particular:-
fundamental principles of working in the animal care, rescue and welfare industry,
animal health and well-being including first aid care
enrichment for animals including mental stimulation, exercise and feed planning, socialisation and exposure to positive experiences
low stress handling and minimising stress in the rescue or animal care environment
encouraging natural animal behaviours
environmental sustainability
increasing an animal's potential for rehoming
For a full list of units, please
visit this page
Certificate II in Animal Studies

Intensive Delivery

Duration

14 weeks

Delivery

Blended learning, 1 day onsite

Learning guides

Downloadable

Textbooks

Downloadable

Excursions

Dedicated student support

One-on-one mentoring by AVT lecturers

Assessments and Certification

Workplace practical insurance cover

AVT practical kit including uniform, name badge and workbook

Total course fees

$3,525*

Payable via our monthly payment plan
Initial payment of $1,500 plus
3 x $675 monthly payments
*Fees, inclusions and payment plan amounts are subject to change.
If you decide to withdraw from study for any reason, refunds are not issued. Please see our policies page for full details.
You will be required to wear:-
an AVT shirt (supplied by AVT)
steel capped shoes (supplied by student),
neatly presented, long comfortable work pants suitable for bending and manual work (supplied by student).
"Presentation is key to success"
Many people aspire to work with animals and a Certificate II in Animal Studies can lead to a wide variety of qualification and/or job pathways in the animal care industry including animal welfare carers, veterinary assistants and vet nurses, council and ranger services, wild life carers and animal fauna rehabilitation workers, conservation workers, pet service related business owners, home based pet services, sanctuary management, park rangers, wildlife rangers, pet grooming, animal trainers, cattery attendants, boarding kennel hands, pet day care centres, agistment facilities and retail businesses such as pet shops.
Click
here
to visit our general Certificate II information page and learn more about career opportunities.
What will you learn?
During the course, you will become familiar with the fundamental principles of working in the animal care industry. In addition to the topics covered in the Certificate II in Animal Studies course, you will be introduced to:-
fundamental principles of working and volunteering in the animal care industry,
understanding body language in animals,
low-stress handling,
enrichment in an animal care environment including mental stimulation, exercise and feed planning and socialisation,
increasing an animal's potential for rehoming,
animal health and well-being including first aid for animals and much more.
All of the skills and knowledge you will learn can be applied in a shelter and rescue based organisation or across a broad range of animal care facilities in commercial organisations.
This course has limited places with high demand. We reserve the right to close course intakes before the advertised close date.
We recommend submitting your application below, as early as possible.
For more information about COVID-19 and our courses select this link
Intake Month

Applications Open

Course Dates

September 2021

Monday 6th September - Thursday 9th December
Applications Close Thursday, 26th August

February 2022

Commence February 2022
What students from AVT's other courses say ...
Having had no animal learning before, I find this course brilliant with clear concise notes, knowledgeable lecturers and RSPCA staff, and especially having the day at the RSPCA is extremely beneficial. Hands on learning and getting interaction with animals is a great help in learning handling behaviours.
This course has taught me the basic care of animals and about animal health in general. This course allows people to get hands on experience and lecturers to provide practical care to animals. Thus; others with an interest in animals will gain and have a positive outcome to the course, alike to me.
Everyone is super helpful if you need anything explained. Skye conducts classes in a relaxed and friendly environment so I feel comfortable joining in, and she is always willing to explain anything until everything is clarified.
Why choose an intensive pathway course for Animal Studies?
Professionally managed and delivered course - with on-site supervision, complete with tutorials and lectures to help you understand and apply theory with ease
Qualified lecturers delivering supervised practical training and assessment with a structured study time table to ensure you stay on track and are learning from the best. 
This intensive pathway will allow you to meet the prerequisite for Veterinary Nursing – you can gain your qualification in 14 weeks and can then apply for ACM40418 Certificate IV in Veterinary Nursing to become a qualified veterinary nurse*
No stress! - This unique format course also means you do not have to worry about finding your own work placement normally required for this national qualification.  Your essential practical training and classroom training will take place in a small group setting with other like-minded students.
This certificate increases your opportunities for employment in the animal care industry and gives recognition towards entry into further studies.
*Please note: Completion of this qualification meets the prerequisite for ACM40418 Cert IV in Veterinary Nursing. However, it does not guarantee you a place on one of our own courses. Due to high demand, our AVT selection criteria also applies. Please read full details on our Veterinary Nursing Course Entry page.