When considering a career, there are so many options. You can work with people, technology, products, or some combination of these. However, when you add animals in the mix, you might truly find something that is rewarding, challenging and highly desired by others.  Whether you're seeking your first career or looking for a change, there are a number of opportunities across the animal care industry that vary in species, the type of contact you have with animals and with people. With the right training and education in place, you could also find yourself working alongside the most passionate and inspiring people you have ever worked amongst.  Here are 7 reasons to consider a career path that involves helping animals. 
1. You spend time with animals every day
If you're even considering a career related to animals, it's very likely that you're an animal lover. In this case, you'll appreciate the opportunity to spend time with all kinds of animals every day. Not many people are lucky enough to be able to surround themselves with the things they love during work hours.
2. A field with strong and consistent demand
One of the benefits of a career helping animals is that there will always be a demand for such jobs. According to Job Outlook, jobs for veterinary nurses in Australia are projected to grow strongly over the next 5 years. Some careers depend on technological trends for growth and stability. Industries and technologies can be disrupted or replaced very quickly these days. This isn't the case with jobs related to animal care. As long as people have pets, they are going to need qualified professionals to help keep them healthy. The RSPCA reports that 62% of Australian households have pets. This is a career that could be described as offering more stability than most, with jobs available throughout the country in both urban and rural areas.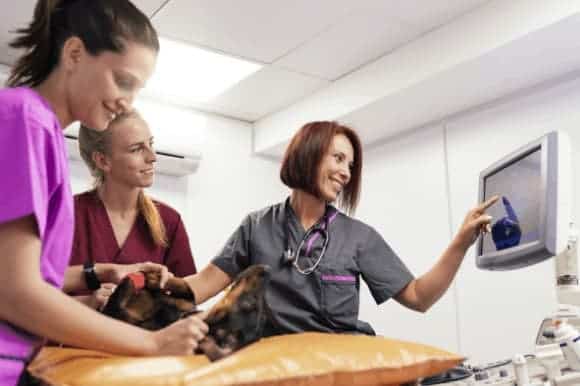 3. Interesting and diverse work days
Many people complain that their work days are monotonous as they perform the same tasks hour after hour. When you have a job working with animals, this is not the case. For one thing, you'll be encountering a variety of animals with many different needs. Depending on where you work, you're likely to see a variety of species, from cats and dogs to horses, reptiles, birds, and more. When you're a veterinary nurse or assistant you'll sometimes have to deal with stressful situations. An owner might bring in a pet that's been in an accident or suffering from a serious illness. While the job isn't always easy, it won't be routine or boring. If you're looking for a career that offers both consistent and diverse tasks and challenges, working with animals might be just right for you. 
4. You can get qualified quickly
In order to pursue a career such as a veterinary nurse, you need the right qualifications. Pursuing a career in this field takes some rigorous study. At the same time, you can earn your qualifications fairly quickly if you have met the prerequisite and can apply yourself. In some schools, including ours, you can obtain a certificate in veterinary nursing in as little as one year. If you want to study online, it will take a little longer. However, many careers require you to spend three or more years earning a degree or certification. Animal care gives you the opportunity to start working as a professional more quickly than many other fields. 
5. The satisfaction of helping people  
As you help animals, you're also providing a valuable service to humans. People are extremely fond of their pets and other animal companions. When you work as a veterinary assistant or veterinary nurse, for example, you'll be helping to treat animals for various ailments. You may advise owners on the optimal diets to keep their beloved pets healthy. In some cases, the care you provide may save the lives of animals. The comfort you provide animals and their owners is a source of pride and satisfaction that you won't find in many other careers.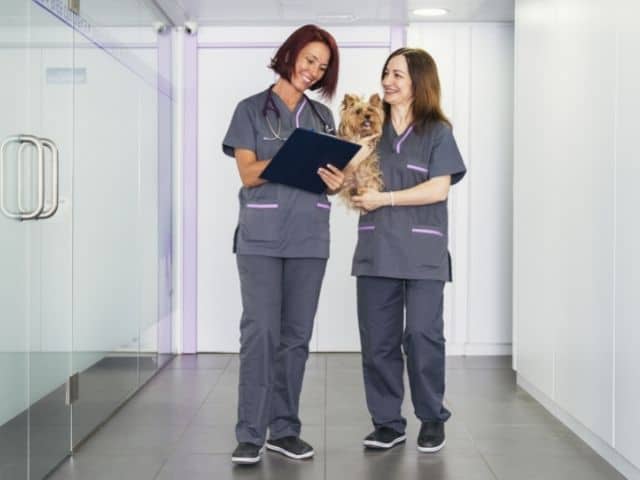 6. You'll keep learning and growing
As a professional who works with animals, there's no end to what you can learn. The medical sciences, including veterinary nursing, are always advancing. You'll learn a great deal in your training and even more once you begin your career. However, it doesn't stop there. As you apply your knowledge, you 'll gain experience and learn from those more experienced. You'll also have a chance to keep up with the latest advances, such as new drugs and procedures to keep animals healthy. This is a career where you'll never stop learning and honing your skills.
7. You have many career options
You may want to obtain qualifications to get a job as a veterinary assistant, veterinary nurse, or even higher. These are all good options if you want to work in a veterinary practice. There are, however, many other potential career paths as well. When you have knowledge of animal care, you can work in pet stores, zoos, wildlife parks, aquariums, equestrian centres, and more. Learn more about careers with animals here. You can also go into business for yourself in a field related to animal care. Whether you work for yourself or seek a position, you can take your skills to just about any location.
If you're looking for a career that's exciting, diverse, and gives you the chance to interact with all kinds of people as well as critters, animal care is worth considering. Jobs in this field are not going to disappear regardless of economic conditions or new technology trends. Taking care of our non-human friends is a challenging yet fulfilling career path.