Are you passionate about caring for animals? Do you long for the chance to spend your entire workday surrounded by furry creatures? If so, you have likely pondered how long it takes to study to become a vet nurse. In this post, we will provide you with the answer to this question, as well as information that you should consider, in regard to becoming a vet nurse. By the end, we hope you are more inspired than ever to pursue your passion for caring for animals.
How long do you need to study to become a veterinary nurse?
It takes a specialised skill set, depth of knowledge and key personal attributes to help make becoming a vet nurse a reality. Veterinary nurses must complete a minimum of a year's training before becoming qualified. The exact length of time depends on your prior knowledge and skills, your chosen study mode and your training institution. 
To become qualified, it is necessary for veterinary nurses in Australia to complete the ACM40418 Certificate IV in Veterinary Nursing. To commence this course, you must meet the prerequisite, which is a minimum of ACM20121 Certificate II in Animal Care or equivalent skills and knowledge (learn more about the prerequisites here). The Certificate II in Animal Care can be completed in as little as 10 weeks, if attending an onsite intensive program.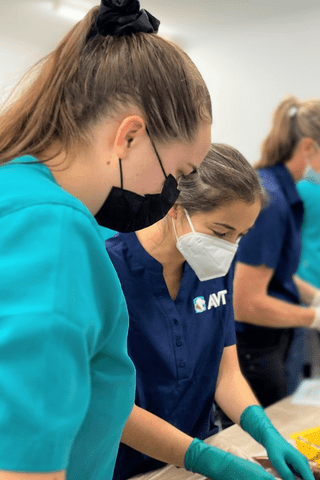 Once you meet the course prerequisite, it is possible to pursue the Veterinary nursing qualification via three main study modes. At AVT we offer: 
Online eLearning:  takes up to 2 years depending on your commitments
Blended Learning: combines online learning with virtual tutorials and takes 2 years to complete
Part-Time:  On-campus study taking 18 months to complete
Full-Time: On-campus study taking 12 months to complete
The range of possibilities all boil down to the amount of time that you have available to commit to your studies. This might be easier for some students than others, depending on  family and work commitments and how quickly you can complete both the course material and your workplace training. 
Do you need to continue studying after graduation?
Whilst it is true that there is no minimum study requirement for veterinary nurses in Australia post-graduation, many employers favour those who show a commitment to continuing their education after graduation.
Those who wish to stay up-to-date on the latest developments in the field of veterinary medicine are best served by ensuring that they strive to continue their education.
There are two main options open to those who might want to do so.
Want to know more about becoming a Vet Nurse?
Meet industry veteran, Jo Campbell who has mentored and trained many, many nurses throughout her career. Jo talks about her career and provides specific advice for future students.
Continuing Education Opportunities
There are a number of organisations offering continuing education opportunities for veterinary nurses in the form of short courses including AVT (see our short courses).
The Vet Nurses Council of Australia (VNCA) also has recently developed an accreditation system known as the AVNAT Registration Scheme. Whilst this is not a compulsory registration system, it does provide qualified veterinary nurses with an avenue to have further studies recognised.
Pursue a Diploma in Veterinary Nursing
Those who have completed the ACM40418 Certificate IV in Veterinary Nursing might want to continue their pathway and consider ACM50219 Diploma of Veterinary Nursing. This higher level qualification is ideal for those seeking a role as a senior veterinary nurse and who are looking to apply more specialist skills in practice.
At what stage can I start working in a veterinary hospital?
Following a passion for working with animals likely means that you want to dive in and start working on caring for animals in need. Thus, we are often asked by our future students, "when can I expect to start working and learning in an actual veterinary hospital?"
As part of our courses at AVT, students will commence training in a veterinary hospital within 1-2 months of starting their course. This training is referred to as a work placement or workplace training.
Prior to graduating, AVT students are frequently offered paid employment by their workplace as Animal Attendants during their practical training. In some situations, Animal Attendant roles may evolve into veterinary nursing positions after graduation. Of course, this will depend on the staffing requirements of each workplace. Learn more about how to turn a work placement into a paying job here.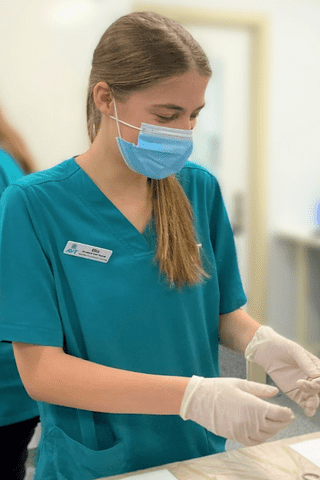 Why now is an excellent time to become a vet nurse?
There is great stability in the veterinary nursing profession at this time. In fact, many are saying that there has never been a better time to take on the role of a veterinary nurse, given the explosion of jobs in this industry at this time. There are a few reasons why this is happening, including:
About AVT
We have been training animal care, animal behaviour and training, equine care and veterinary nursing students for over 25 years in Australia. Students who undertake AVT courses range from high school-aged students just starting their pre-vocational journey right through to mature-aged students seeking an alternative career path. Graduates are highly respected and sought after by industry professionals, businesses and organisations. If you want the background knowledge and skills to help you secure your career in the animal care industry, check out our qualifications here or gain new skills by studying one of our short courses.