High-quality training courses often include work experience or practical training via a work placement. Sometimes referred to as internships, practicums or integrated learning; all involve periods where you are placed in a workplace and have the opportunity to learn from other professionals in your line of work. 
Often, these work training programs give you the best possible vantage to study a profession and practise the skills necessary to thrive. Work experience takes job preparation out of the academic realm and into the real world. It's common to use work placement and internships as a tour of potential employers, but you may also want to consider turning a work placement into a long-term paying role.
Taking an unpaid or training position can lead to a paying job with the same employer or a glowing recommendation letter for future interviews and job-seeking if you know how to approach the situation. The key is to learn quickly and show genuine enthusiasm and interest in your work. During your work placement, if employers see you as skilled, passionate and friendly, they will want you on their team, or alternatively, they may assist you in finding a good position when you leave.
Stepping Up from Student to Employee
When it comes to working in the animal care and veterinary industry, the importance is to distinguish yourself from other students. Work placement positions often host several interns and students. Most students will plan to move on to other employers but if you have found your ideal job and want to stay, show your intentions.
Instead of phasing through your work like it's all temporary, get serious! Get to know your permanent coworkers and allow yourself to become dedicated to the team and routines. From the way you handle requests to cleaning out storerooms, show that you are invested in the long-term prosperity of the organisation and your team. 
So how do you turn an animal care or veterinary nursing work placement position into a paid job? Let's dive into the right approach for a full-time conversion.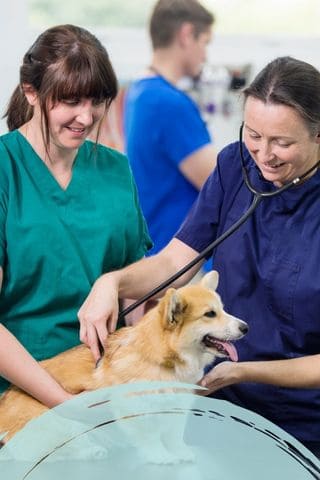 Make a Powerful First Impression
Go into your work placement like you want to stay, and make a strong first impression. Treat this position as the longest and most important job interview you have ever had. Dress appropriately wearing your student uniform, name badge and greet everyone you meet with professional friendliness.
Come in with energy, focus and a positive attitude. Embrace your new tasks and routine and make an effort to be friendly with the permanent team, along with fellow students. When you arrive with good energy and dedication to the work, your supervisor and others will quickly notice.
 Show Enthusiasm for the Work
Learn with dedication
Say 'Yes" to new tasks
Embrace learning and mentorship
If you are passionate about your work and the industry, it is likely you will go further than a student who is simply there to tick the box for their practical work experience.
There's no doubt if you are enthusiastic about your work, others will see your potential and notice your influence. Motivated team members who love their work are also a joy to work with and can raise the spirits and energy of others.
Haven't yet started a qualification? Learn about our nationally accredited courses in animal care, behaviour and veterinary nursing and get the edge you need to start your career! 
Learn your early tasks with dedication and master them as quickly as you can. When someone offers or asks you to do something new, say 'Yes" as often as possible. If someone offers to teach you a new task or adopts a mentor role, embrace the opportunity to learn and connect.
Build Trust with Your Supervisor
Engage fully and without your phone
Maintain a friendly and work-positive attitude
Complete work reliably and on time
Show dedication to the job
Find the most appropriate times to ask for help in signing off your assessments or practical tasks
If you hope to be hired back or given a good reference from your supervisor, build their trust in your value as a team member. Keep your phone in your pocket and give the job your full attention. Show dedication and hard work at all times and do your best to meet deadlines and submit your tasks in a reliable and timely manner. Always have a work-positive and sunny attitude.
Show you understand how the business works by choosing the right times for signing off your practical training tasks.
Show Your Interest in Learning
Be inquisitive, ask questions (but learn when the time is right)
Take notes and learn from them
Ask for feedback
There is a lot to learn about animals and their care. Show that you don't know everything, but you are committed to quickly learning the ropes. Ask questions when things are being shown or explained to you. Be inquisitive and interested in the inner workings of the business. When appropriate, take notes and reference your notes to avoid asking the same question twice.
Show your desire to improve by asking for feedback and genuinely embrace the advice you receive.
Get to Know the Team
Introduce yourself to everyone personally
Be friendly and conversational
Offer a sympathetic ear and a cup of coffee
Join in team celebrations
Make yourself a known and enjoyable member of the team. Start by introducing yourself warmly to everyone. Share your name with each person and be prepared to keep introducing yourself until everyone remembers you before their first cup of coffee. Always keep a friendly and conversational attitude, whether that means listening to happy news, talking about their own pets or offering a sympathetic ear and a fresh cup of coffee.
As you become more friendly with the team, join in celebrations like birthday parties, theme days, and secret Santa pools. Share your lunch break with the regulars and become a part of the daily jokes and chores shared by everyone.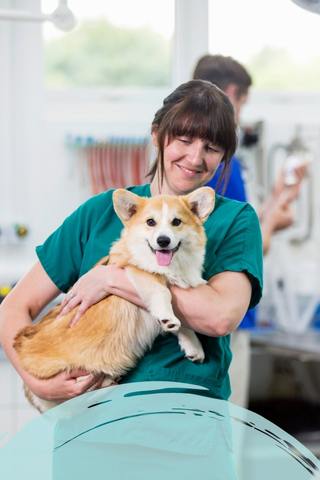 Make Yourself Useful as a Team Member
Use idle time on unfinished team tasks
Ask how you can help other team members
Keep the coffee pot full
Remember opening and closing tasks
There is always so much to do in an animal care environment, whether that is in the veterinary industry, a boarding facility, a pet shop, daycare or any kind of shelter or rehabilitation centre. 
Go beyond being friendly; help out! Students and work placement positions are often given light work. Once you learn the ropes, it can sometimes be done more quickly with extra time left in your schedule. Use any free or idle time to be helpful to the team. Find unfinished tasks such as areas that need cleaning or inventory that needs putting away, and take care of it.
Ask team members how you can help out others who are busy. Offer to do coffee runs or help keep the coffee pot fresh and full. One very helpful approach is remembering the full routine for opening or closing a shift, taking some of that burden off the regular team.
Wrapping Up Your Placement with Job Options
Share your interest in the future
Share how much you've enjoyed the work experience
Talk about your career goals
Say 'Thank You' to everyone
Show desire for future job openings
Finally, be sure to wrap up your work placement with overt plans to stay or return, and generally to take your career to the next level. When the time is right, mention your plans for your future career and where you see yourself in the next year. 
Share with your team and your supervisor how much you've enjoyed your time and how you would enjoy a more permanent role if one became available. There might be an opening at that moment, or your supervisor might keep your resume handy for the first possible position at your level. 
Say 'thank you' to your supervisor or team with something they can remember. A card for the bulletin board is an excellent souvenir of your time spent with the organisation, thanking everyone for their time, mentorship, and companionship. 
Be Prepared for a setback
Sometimes, there just won't be a permanent role available when your work placement ends. There may even be policies against internally promoting students to paid positions. If the circumstances aren't right, be prepared and cheerful when facing a negative response. These techniques also work for winning a powerful reference and possibly recommendations and networking from your supervisor instead.
Turning Your Veterinary or Animal Care Related Work Placement Into a Paying Job
When you find a work placement that you love, put in the time and effort to turn it into a permanent role. Maybe you can earn a place on the team; maybe you can't. What you can do is build trust with and impress your supervisor, so they help you find your next ideal paying role, inside or outside the current organisation. 
Looking for guidance on transforming your work placement into the next phase of your animal care career? Want to talk about your career plans or thinking about a pathway to veterinary nursing and want to know where to go next? Contact us today!
About AVT
We have been training animal care, animal behaviour and training, equine care and veterinary nursing students for over 25 years in Australia. Students who undertake AVT courses range from high school-aged students just starting their pre-vocational journey right through to mature-aged students seeking an alternative career path. Graduates are highly respected and sought after by industry professionals, businesses and organisations. If you want the background knowledge and skills to help you secure your career in the animal care industry, check out our qualifications here or gain new skills by studying one of our short courses.
This post answers commonly asked questions including:
What is the next step after an internship/work experience?
How to ask for a job after an internship/work experience?
Will your work placement or internship turn into a job?
What to do after internship and work placements?
How to ask for work during work placement or internship?
How to get a job offer after an internship, practical training or work placement?