The annual Household, Income and Labour Dynamics in Australia Survey (HILDA), which polls 17,000 Australians, shows that 72 percent of pet owners (a massive 48 percent of all people interviewed) own a dog. It is clear that, with so many owners of man's best friend and more people treating their pets more like their babies or children, dog walking can be lucrative. If you dream of working with animals and are looking for a fulfilling, well-paying career caring for them, you should perhaps consider starting a dog walking business or service. However, getting started is no walk in the park, so how can you get your foot in the door? Easy! "Paws" what you are doing and read our helpful tips on how to start a dog walking company in Australia.
Carry Out Your Research Into The Business
Before you start caring for your clients' furry friends, finding more information about the business is crucial. Market research is all about collecting accurate and helpful information about the dog walking business and the potential customers who may require your services. The goal of this research is to establish the facts on which you will base your business decisions. You could take time out to talk to other walkers in your area or people working in pet-related businesses about your concepts. You could also speak to a few dog owners to get a feel for the potential of your proposed business. With proper planning and sound data, you will attract more customers.
Put Together A Business Plan for a Dog Walking Service
A successful business starts with understanding your local market, the financial requirements, and the potential for your business, then crystallising it into a plan of action. You should consider:
The services you should offer
Businesses that can refer to you
The number of clients you can handle each week
The other important part of your business plan is the financials section, which contains your costs, expenses and income projections to help you predict your profits. Using your competitor analysis and market research, you can easily find out how much other walkers charge for their services per dog in your area so that you can set your fees accordingly. 
Start your qualification with a focus on Animal Care and Welfare Today!
Although undercutting the cheapest dog walker in your area is an option, you should not view it as your sole option. Use your market research to establish what your potential clients are looking for. You might find that offering shorter walks for a group of dogs is acceptable to your audience, or you might be in an affluent area with people willing to pay top dollar for longer, solo walks and added services like grooming. Establishing the state of the market, your costs and your revenue projections will help you prepare a game plan for your dog walking business, set your budget and give you realistic expectations of what you can earn. Once you are satisfied that a dog walking job is for you, you can register a business name and set up an ABN and open a bank account. The Australian Government Business portal is a great resource to help you get started.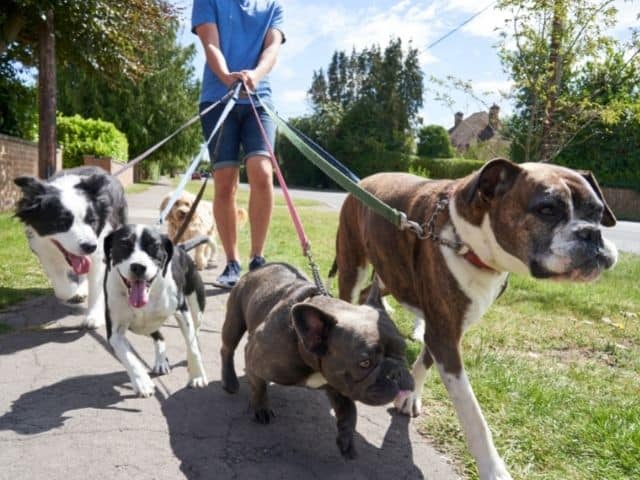 Create An Operational Framework For Your Dog Walking Business
Your framework covers all the operatives of your business plan. It examines your customers' needs, what services you plan to provide, how you will sell your service and a way to bring these parts together to create a successful, profitable business. Answering the following frequently asked questions from dog owners will give you a starting point:
How much experience do you have with dogs?
Can you provide first aid medical care if needed?
What happens if my dog needs treatment while in your care?
Do you have a qualification in animal care or behaviour?
Where will you walk my dog?
Can you train my dog?
My dog has a behavioural issue (eg, aggressive towards other dogs). When he/she is on the lead, can you handle him/her?
Can you walk and look after (eg, feed) my dog if I go on holiday?
Can you walk more than one dog at a time?
How and when will I pay you?
Can I have a receipt for your services?
Do you have police clearance?
Take particular note of the required insurance (including public liability cover).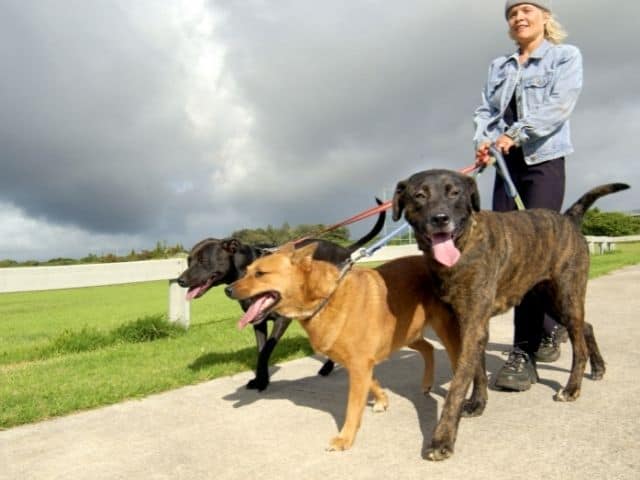 Promote And Grow Your Dog Walking Business
Every successful dog walker in Australia understands how essential marketing is to the success and longevity of their business. In any case, most people can walk their dogs, so your challenge is to find, maintain and grow your client base and convince them to sign up. Fortunately, there are effective online and offline local marketing strategies that are not only affordable but also highly effective:
Set up a website to show off your qualifications, experience and love for dogs
Create a Facebook/Instagram profile
List your services on reputable dog sitting and dog walking listing pages and reach out to owners who are seeking services in your local areas. 
Potential Referrals from other pet-related businesses
Networking opportunities  eg, www.piaa.net.au 
Encourage referrals eg, referral discounts
Offers for new clients
Loyalty Packages
Spread the word in your community by attending local events, markets
Flyers and mailbox drop
Local Facebook community groups
Gumtree
Social media advertising
Encourage existing clients to leave reviews on Google and Facebook
How Much Do Dog Walkers Earn?
The average hourly salary for dog walker jobs in Australia is $27.68. However, your rates could vary widely, depending on the number of dogs you can walk and your location. Other factors also come into play, including your competitor rates and how many hours per day you will work.
Walking dogs: Jobs for Dog Walkers
If you want the flexibility of becoming a dog walker but you are not yet ready to set up your own business, it is possible to work for others. This is an excellent way to obtain experience, but also make sure the career path as a dog walker is for you. 
There are two ways you can get a job as a dog walker:-
Work for an organisation hiring dog walkers. An example of businesses that hire dog walkers includes rescue organisations and boarding kennels.
By signing up for online job matching services such as Madpaws. This is a low-risk option if you wish to start working as a dog walker without the hassle of setting up a business (of course, depending on your personal circumstances) and if you want the flexibility of setting your own hours. 
What Qualifications Do I Need To Be A Dog Walker?
As a business owner, you will need some skills in business administration and marketing to run your business. Clients are also more likely to be attracted to businesses that employ or have individuals who have completed formal training in the area of animal care, so they know their pets are in the best hands. You can obtain a nationally accredited ACM20121 Certificate II in Animal Care or ACM30122 Certificate III in Animal Care Services from Applied Vocational Training. This will give your clients the peace of mind that you have the knowledge to handle and care for their loved ones when they are in your care. Contact us to learn more.