If you are an animal enthusiast, have a strong connection with them, and love helping pets and people, a career as a Dog Trainer could be a great fit for you. Dog training is a fantastic opportunity to significantly impact the quality of life of dogs and their owners. Not only that, you get paid for spending your days with animals!
Why Should You Become a Dog Trainer?
There are several reasons you should consider choosing a career as a Dog Trainer. These include:
Increase in Demand for Dog Trainers
Over the past few years, there has been an increase in demand for Dog Trainers as dog owners hope to create a closer bond with their pets. Many new pet owners now recognise that responsible dog ownership includes early socialisation and ongoing training. With this knowledge, they are turning to Dog Trainers to assist them.
Increase in Popularity of Dog Ownership
The increase in demand for Dog Trainers can also be attributed to the growing popularity of dog ownership. Pet owners report that having a furry companion at home motivates them to maintain a daily routine and boosts their physical and mental health. These benefits have contributed to the popularity of pet ownership in Australia, with dogs taking 40% of the total pet ownership in the country.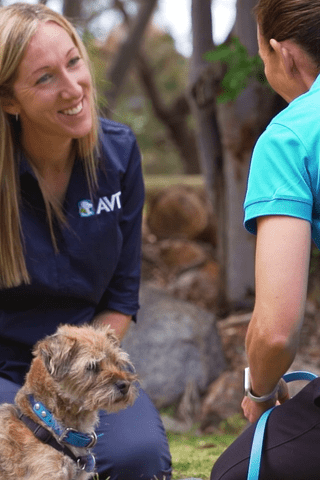 You can make a Difference – a Real Difference! 
There is increasing evidence showing that undesirable behaviours in dogs compromise their own welfare as well as the humans in their lives.  In recent studies, undesirable behaviours have emerged as the predominant course of mortality in younger dogs.  With this knowledge at hand, the role of the Dog Trainer in our society to help modify and manage behaviour is now essential in reducing euthansia in young healthy animals.  
Increased Use of Dogs in Service (Assistance Dogs)
Assistance dogs are specially trained to aid people who are living with physical disabilities. They help people perform daily activities and tasks more confidently and independently.  There are several organisations throughout Australia who employ Dog Trainers to assist with the important role of selecting and training puppies and adult dogs.  
Steps to become a Dog Trainer in Australia
Before you embark on a career as a Dog Trainer, we recommend following the following four steps to ensure you make the best decision for you and the steps you can take to have a rewarding introduction to working as a Dog Trainer.
Step 1 – Understand if You Have What it Takes to Become a Dog Trainer
To succeed as a professional dog trainer, you will ideally possess the following qualities and skills:
Step 2. Get Experience Handling and Working with Dogs
Before jumping into a dog training career, you need to gain practical experience. First-hand experience working with animals provides you with valuable practical skills, as well as references to pop on your CV. Here are three ways you can gain experience with animals and start to learn about the unique behaviours dogs display:
Work in the animal care industry:  if you intend to become a successful Dog Trainer, working with animals will allow you to regularly interact and handle them giving you more confidence to pursue a career in training.
Foster animals: animal fostering is not only rewarding, it will also expose you to a range of animals with unique personalities and in some cases those that need extra attention and training.
Volunteer with an organisation: animal shelters and rescue groups are constantly looking for volunteers to help with various tasks. As you carry out your daily activities in the shelter, you will have an opportunity to interact with furry friends of all traits.
Haven't yet started a qualification? Learn about our Nationally Accredited Course in Animal Behaviour and Training and get the edge you need to start your career! 
Step 3. Find a Mentor Who Can Help You Gain Experience
Working with a mentor can help you grow your skills and confidence quickly. They can also provide you with insights and knowledge about their experiences before you seek formal training. 
Step 4. Complete a Qualification
If you wish to help pet owners confidently build a relationship with their dogs, then consider enrolling in ACM40322 Certificate IV in Animal Behaviour and Training. The course is a mix of online and practical training in a supportive learning environment, giving you a quality experience at your convenience. 
Enrolling on this course allows you to gain the necessary skills from professional trainers. In addition, you will interact with like-minded students and make lifelong friends, who can become an essential part of building your career. 
Once qualified, you will hold a national recognised certificate and will also receive membership to the internationally recognised Institute of Modern Dog Trainers (IMDT).
Jobs for Dog Trainers
There are various career and job options for Dog Trainers including:
Dog Trainer working with families and their pets either one-on-one or in group classes
Puppy Pre-school Trainer
Dog Trainer in an animal boarding facility, day-care, vet clinic or animal rescue or shelter
Dog Trainer or Dog Handler for a government organisation, e.g. Quarantine Dogs, Drug and Narcotics
Detection Dogs, Police Dogs, etc
Assistance and Service Dog Trainer
Educational role in the animal care industry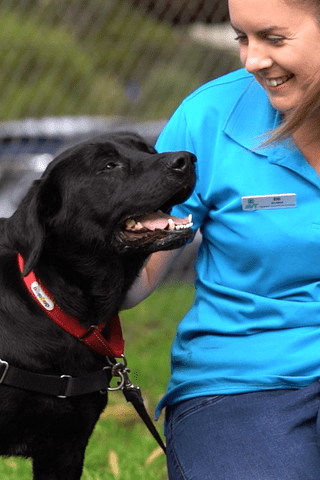 Final Thoughts on Choosing a Career as a Dog Trainer
Choosing a career path as a Dog Trainer has many benefits for you. The animals you help will live happy and long lives. As a professional trainer, you will get paid for what you love, spend your time with pups and dogs, and positively impact your furry trainees' lives. 
If you have a passion and love for dogs and want to start a career as a professional Dog Trainer, ensure that you possess all the necessary skills to facilitate your success. In addition, be sure to enrol on our nationally accredited dog training course for high theoretical knowledge and intensive hands-on practical training. 
About AVT
We have been training animal care, animal behaviour and training, equine care and veterinary nursing students for over 25 years in Australia. Students who undertake AVT courses range from high school-aged students just starting their pre-vocational journey right through to mature-aged students seeking an alternative career path. Graduates are highly respected and sought after by industry professionals, businesses and organisations. If you want the background knowledge and skills to help you secure your career in the animal care industry, check out our qualifications here or gain new skills by studying one of our short courses.