Pursuing a career as a veterinary nurse or as an animal health care professional is one of the most exciting and rewarding journeys you will experience in your life. However, if your budget is tight and you are already struggling to balance work responsibilities and family duties, you may worry that you will never be able to find time to study or find a training program that will fit your schedule and budget.
Fortunately, the advent of online courses now enables busy, cash-conscious students to receive the education and training needed to enter the fulfilling field of animal studies. By choosing to pursue courses  online, through a leading vocational training provider, students can study in the location of their choice at a time that suits their lifestyle. Below is a look at the top four reasons to study your course online.
1) Enjoy superb flexibility with Online Animal Care and Vet Nursing Courses
"Good online courses give students what they want. You study flexibly according to your own schedule. Program content is engaging and keeps you learning. And you earn a valuable qualification, whether it's a certificate, diploma, bachelor degree or masters." – Online Study Australia 
A growing number of students who pursue animal studies are already spending each day balancing demands from employers and family members. Traditional classroom courses are not an option for students who do not have the resources to find care for their young children or ageing parents. And students who work part-time or full-time often struggle to find the time to commute to and from work to school and back home again.
Online courses enable students to study when their schedules permit. You can choose to study at night after putting the children to bed, at five o'clock in the morning before the start of a busy workday, or during your afternoon commute home on the bus or train. And whether you prefer to learn for hours on end or break up your course into short chunks of time, online courses will satisfy your need for flexibility.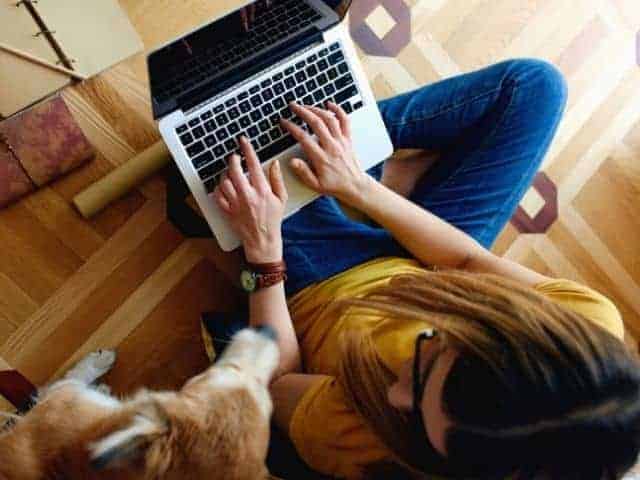 You can also enrol in online courses at any point in time rather than waiting for the traditional school year or term to begin. So if you are eager to get started on the path to a career working with animals or perhaps becoming a veterinary nurse, online courses are a great option.
2) Study at your location of choice
If you are like many of today's students, you are highly mobile, technologically savvy, and ready to engage in learning – regardless of your location. Today's eLearning courses allow you to study from any location of your choosing, as long as there are suitable opportunities or options available for your practical training. You can study using your laptop, PC, or favourite mobile device that is compatible with the online study mode.
3) Take advantage of cost savings from studying animal care based courses online
Online courses are typically less expensive than traditional on-campus courses. Traditional on-campus courses include the costs of classrooms, teaching staff, and building maintenance fees, which can all add up. Online courses, on the other hand, can be held without the need for a campus.
In addition to paying less for your courses, you will also save money on commuting costs such as public transportation fees, personal vehicle maintenance expenses and fuel. Students who are caring for small children or ageing parents do not have to cover caregiver expenses while they are on campus, allowing them to save hundreds of dollars per week. And because you can study from the comfort of your own home, you do not have to spend money on wardrobe essentials for school. 

4) Receive outstanding support
If you are unfamiliar with the benefits of eLearning, you may wonder whether you will receive the same level and quality of student support that you would receive if you chose to complete your coursework in a traditional classroom setting. The good news is that, here at AVT, you can be assured that you will receive the same outstanding student support, from trained veterinarians and veterinary nurses, as you would if you were in a classroom setting. Here is a look at some of the support you can expect to receive while pursuing online studies at a top online course provider:
High quality learning materials: You will receive digital access to the most up-to-date study materials via your Online Learning Centre
One-on-one training: Students can request individual guidance and personalised attention from skilled educators as needed
Training plans : Online learners will have access to training plans to help them to stay on track in order to complete their course within the time frames allowed 
Guidance from animal health experts: You are able to receive career guidance from veterinarians, veterinary nurses and animal care professionals. 
Of course, if you decide to take advantage of our conveniently located on-campus services, you can enjoy facilities such as practical training areas, free Wi-Fi, and a student lounge situated within walking distance to restaurants and public transportation. 
What should you do if you are interested in exploring our Vet Nursing and Animal Care online courses?
As outlined above, there are many compelling reasons why students choose to pursue online studies. If you are interested in learning more about the benefits of online courses, the best thing to do is to reach out to a leading provider of online education. 
AVT enrols approximately 500 students per year from across Australia. Many of these students choose AVT because they are known for their outstanding eLearning programs. Students who enrol in AVT's online courses are able to complete their coursework and receive the academic support they need from the comfort of their homes or other preferred location. They also attend their animal care workplaces for their practical training at a time that fits in with their busy schedules.
As one of Australia's most highly regarded Animal Care providers , AVT has helped thousands of students realise their dreams of becoming a veterinary nurse or animal health care professional via online studies. We invite you to contact us or download one of our course information guides below to discover why we are Australia's most trusted animal care and vet nursing online educators. We look forward to providing you with the affordable, flexible and supportive learning experience that you deserve!