Stress Management is a hot topic for many Australian animal care environments such as veterinary clinics and rehabilitation and shelter environments. As a student about to get started or a graduate about to commence a new career, this post provides some further background to the issues at hand, as well as some practical, actionable strategies you can implement to help manage stress particularly for your workplace.
What Are The Main Causes Of Stress For Animal Care Workers?
Prolonged work hours – some animal care workers are so committed to their jobs that they work long hours. Take for example, shelter attendants who feed orphaned kittens many times a day and night or veterinarians who stay after hours to assist with emergency patients. Long working hours ultimately result in stress and burnout.
Workload – Similar to extended work hours, animal care workers can experience extreme workloads from time to time, mainly when dealing with multiple injured or sick animals. Managing busy workloads and extended periods of multi-tasking can result in total exhaustion.
Dealing with people – people are often very attached to animals, whether that be rescued wildlife or their beloved senior pet. When pet owners and animal lovers hear bad news, they can react unexpectedly, causing them to be verbally and sometimes physically abusive.
Euthanasia – deciding to let an animal go may be a dignified and humane way of letting them die, but this can be heart-wrenching for those who assist with euthanasia, particularly when they have to perform this procedure several times a day or week.
Career growth – there are various career paths for animal care workers; however they can be quite restrictive depending on the employer and type of work undertaken. Deciding what the next career move might be can be stressful for any worker.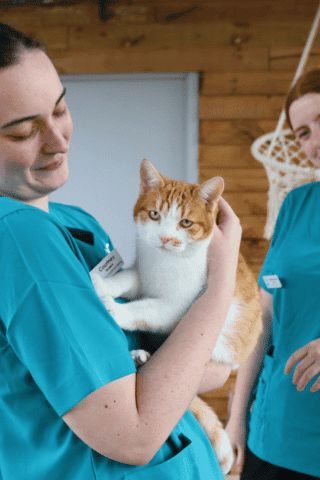 Actionable Tips For Managing Stress At The Workplace
1. Identify Your Daily Stress Factors
What are your most common daily stressors and what triggers them? The only way you can combat stress is by identifying what is stressing you and then looking for effective strategies to combat it.
Start being aware of your work environment and implement the combative strategy anytime you experience a stressor.
2. Embrace Vulnerability
Let go of the idea of perfection. You are human and, understandably, you get upset when you have to treat a critically injured animal or angered when you find out another human being has mistreated another.
Every time such incidences occur, take a step back and acknowledge that people deal with stress in different ways and this has nothing to do with you.
Growing evidence shows that the risk of suicide in the animal care profession is rising. This is particularly the case for veterinary professionals with some reports that 
veterinarians are four times more likely 
 to die from suicide than the general population and two times more likely than other healthcare professionals. The truth is that stress, anxiety and depression are significant issues facing animal care workers for a number of reasons.
3. Talk About It or Seek Help
A problem shared is a problem half-solved. If you dwell on conflict or bottle up your stress, it will be too much for you to handle at some point. Identify a confidant who you can talk to about your work situation without being judged and one who will give you unbiased advice. Just talking a problem through with someone else can help you seek clarity, and make you feel better.
However, if you feel emotional to the point where you are having thoughts of suicide, seek immediate professional help. There are amazing services and resources available in our community, some of which are listed below.
4. Balance Your Work & Personal Life
Yes, you love your job, but it is important to schedule some "me" time where you take part in activities you truly enjoy. Take time off work and go for a hike. Reserve your off days for exercise, shopping or whatever makes you smile. Give yourself time to recharge!
Spend time with people and pets whose company you enjoy and try to unwind. It is okay to take a break.
5. Relaxation Exercises
Learn to identify when you are stressed. How does your body react to extreme anxiety? Do you experience migraines or have intense back pain? Does the stress manifest as fatigue or insomnia? Find out what your stress indicators are!
If you work in an animal care or veterinary care workplace, read our tips on how to work more effectively in small teams
Every time you are stressed, take slow deep breaths and imagine yourself in a peaceful and happy place. Hold on to that memory until all the negative emotions melt away.
Other ways of relaxing include meditation, listening to your favourite music, taking a walk, doing a workout and even reading a book.
6. Set Boundaries
Setting realistic boundaries is a great way of preventing stress before it starts.
Where possible, minimise potentially stressful situations by distancing yourself from situations that add to your stress. For example, schedule appointments for difficult animals or people at a time when you know you are at your best. request roster times that help you manage other life commitments more effectively, If you own your own business and are working with customers or clients that continually create conflict, let them go.
Teach yourself to say no and set limits in advance.
7. Take Good Care of Yourself & Adopt a Positive Work Attitude
Get enough sleep, eat a well-balanced diet, and stay hydrated throughout the day. Watch your alcohol consumption, only medicate under the supervision of a healthcare professional, develop a can-do attitude, and channel your energy towards things that bring you happiness.
Laugh often, grab lunch with friends, watch a funny movie after work… look for the good things in life and only focus on what you can control. Strive to solve conflicts when they occur because dwelling on them only increases your stress.
Bonus Tip: Remind yourself why you started your career working with animals and if you need to adjust something about your career or role, to improve your situation, start now!
Help, I'm Stressed Out! What Should I Do?
If the work-related stress becomes too overwhelming, you can always reach out to one of Australia's top help services: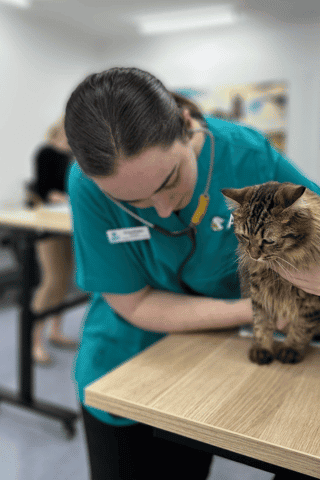 Managing Work-Related Stress Effectively
Work stress often hinders your productivity, preventing you from completing the daily tasks assigned and also affects your personal life, leading to relationship conflicts. As an animal care worker, your job should be one of the most pleasant; you interact with various animals daily. While it is impossible to avoid work stress completely, you can use the above tips to control how you deal with it.
About AVT
We have been training animal care, animal behaviour and training, equine care and veterinary nursing students for over 25 years in Australia. Students who undertake AVT courses range from high school-aged students just starting their pre-vocational journey right through to mature-aged students seeking an alternative career path. Graduates are highly respected and sought after by industry professionals, businesses and organisations. If you want the background knowledge and skills to help you secure your career in the animal care industry, check out our qualifications here or gain new skills by studying one of our short courses.