Behaviour 2 - Taking the 'Pet' out of Petrified - SOLD OUT!
In this session' internationally certified dog trainer and behaviour consultant' Laura Ryder will join us on-campus to cover an informative and must-see session on Fear Free practices in the Veterinary Clinic. Next workshop will be held on:- Saturday 22nd August 2020 from 9am-12pm.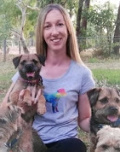 Laura Ryder is an internationally certified professional Dog Trainer and Behaviour Consultant' with 25 years' experience working in the animal care industry. She is a Principal Instructor for the Institute of Modern Dog Trainers (IMDT) – the leading, worldwide education provider for Dog Trainers. Laura is also a member of the Fear Free Speakers Bureau, and presents both locally and internationally (UK, NZ, USA) to Veterinary Professionals, Trainers, Groomers and Shelter Workers. As the Head Dog Trainer at Morley Vetcentre, Laura has established fear free practices and oversees a wide range of training courses, behavioural services and workshops offered to clients.
About this workshop
In this morning session, Laura will focus on how to introduce and maintain a fear free approach in a veterinary clinic. Students will walk away feeling confident to either introduce or reinforce the fear free toolkit at their practice. Laura will be discussing:-
The Fear Free toolkit
Help your clients deliver a calm pet to your clinic
Enhance the quality of care for your patients
A look at emotional wellbeing
Fear Free Behaviour Modification
Practical – husbandry and handling skills session
Who is this Workshop ideal for?
This workshop is an intense session ideal for animal healthcare professionals including veterinary nurses and animal carers working in veterinary practice. It provides the foundations of canine behaviour and is therefore useful for Veterinary Nursing and Animal Studies students as well as industry professionals.

Workshop Details
The session details are as follows:-
Date:
Saturday, 22nd August 2020 (NEW DATE NOW PUBLISHED!)
Time:
9.00am - 12.00pm
Location:
AVT Bentley Campus -
At our Bentley Campus, Enterprise Unit 2, Suite number 2, 11 Brodie-Hall Drive, BENTLEY, WA.
View a Map and Directions here
Workshop Fees
Early bird registration - AVT past and current students $65 Non students $85. Available until the 7th August 2020.
Normal booking fee - AVT current and past students $75 Non students $95. Applies from 8th August 2020.
**AVT past and previous students - check your relevant Private Facebook Group for your discount code**
How to book
Our behaviour workshops are popular and registrations book fast. Seats are limited so make your booking now by clicking on the ENROL button below.
Target Audience:
Program Benefits:
Content:
Enrol Now:
---
Want to find out when our next workshop will be available?
Simply provide your details below and we will send you a notification when our next workshop is scheduled.